For Caleb's birthday we got him a mini cutting board and an apple cutter. We have gone through a 3 pound bag of apples since coming home from Thanksgiving! Good thing the fruit market has a good price these days! On a positive note, between the "Apple Work" and the "Pickle Work" I don't really have to plan snacks anymore!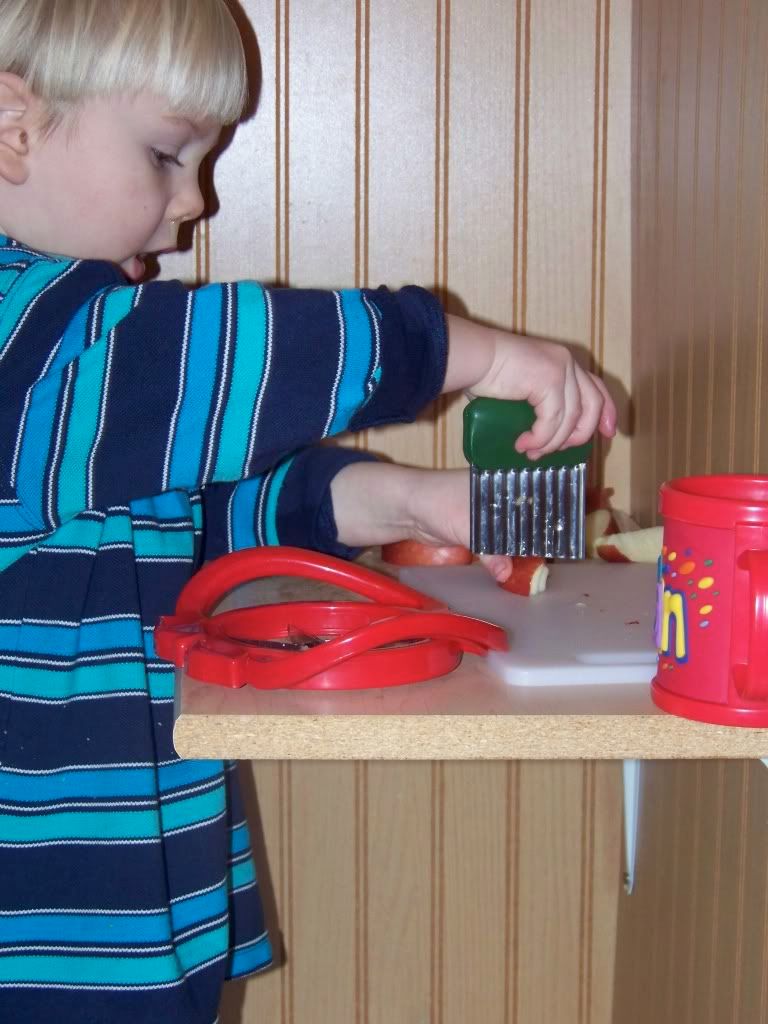 If you are interested in having this type of independent snacks at your house, they key is to teach them the whole process step by step. At our house the procedure is to gather the materials and carry them to the work counter one thing at a time, select your fruit, cut the fruit into bite sized pieces, put the fruit into a bowl, offer a piece to everyone that is home (and able to eat it!), eat your fruit, carry all of the dirty dishes to the sink and rinse them off and put them on the drying rack, and then finally (and this is the step they forget the most) take a damp rag and wipe down the counter. In the coming weeks we will be introducing a banana work (that uses a butter knife for slicing instead of specially designed tools) and a carrot work (that introduces peeling).
This next work is put together from thrift store finds and my kitchen drawers. It is napkin rolling. I put it on the shelf this week in preparation for some entertaining we will be doing later in the season. I want the boys to have a foundation so they can help with preparations by preparing the silverware. I put the work out while the boys were at school this morning and Aidan noticed it right away and asked for a presentation after lunch.