...even if it is just an accident!
Yesterday we headed to the library for some new books before Christmas and checked out a book called,
Yoko Writes Her Name
by Rosemary Wells. It is the story of a girl (ok, a cat) who reads and writes Japanese instead of English and is being teased by her classmates who are saying she doesn't really know how to read or write, she's just scribbling. She of course eventually befriends another child who teaches her English while she teaches him Japanese. One of the neat things about the book is that in the upper corners of each two page spread is a picture with the English on the left page and the same picture with the Japanese on the right page. We started a discussion about the differences in the languages (Aidan noticed right away that the word hand only had one character in Japanese) and I was hoping to do a little more learning on my own before bringing more information on the topic to the boys over Christmas break.
Today we headed to school for the annual Holiday Bazaar. The children from the E2 classrooms set up little stores in their classrooms and they make products and sell them, trying to make a profit. The students come up with some amazing things and both last year and this I wished I had brought more money than I had! The students from the younger classrooms and parents come to shop at the Bazaar. At the same time the parent group hosts a donation based pancake breakfast and the Children's House and ErdKinder Choirs sing.
Amazingly, one of the girls hosting a shop had set up and was doing Japanese name writing. For $.25 she would write your name in Japanese for you! So for the ripe old price of $1.50 we now have everyone's names in Japanese.
Back Row (Tim, Heidi)
Front Row (Aidan, Caleb, Kenna, Kylee)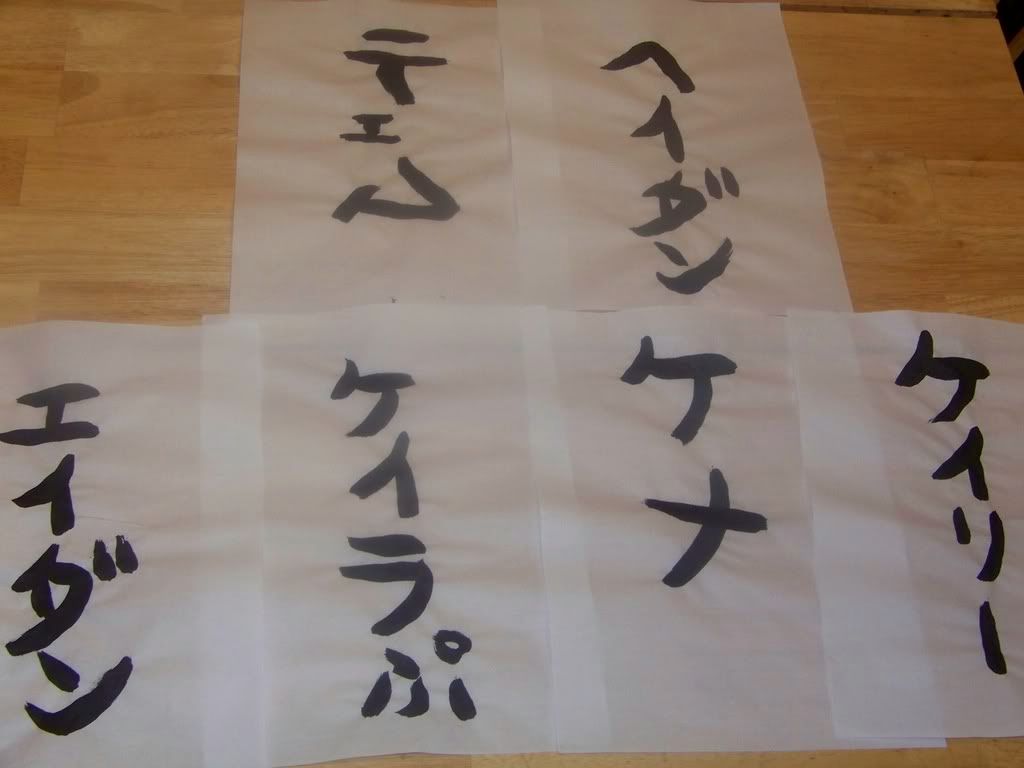 Aren't they beautiful? I love that Kenna's name is so short and simple, as her life was. We are thinking of framing and matting them and using them as wall decorations in our home!