I let my big boys choose their Halloween costumes as long as it is nothing scary. They both requested wizards (actually they both requested Harry Potter, but I knew plain old wizards would be easier). I decided to make Kylee a cute little bumble bee.
I worked up a simple pattern for a wizard's robe with a flannel lined hood and went to work. Caleb's was the first one I did and although it has a few hidden OOPS's it turned out well. I went to work on Aidan. He wasn't actually home when I started working, so my plan was to simply make a costume that was too large for Caleb and then I would hem it when Aidan got home.
Nice plan.
Except somehow I made a costume that was not only too small for Aidan, it was too small for Caleb! And so (after much hemming of length and sleeves and a belt because I could shorten the waist that much) the littlest witch was born!
Isn't she cute?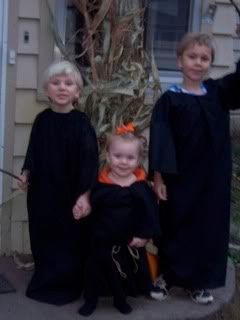 Sorry for such a crummy picture, I will try again tonight.
Want to see what else we have been up to?
Fine, but I'm going to show you anyways!
Making Gluten Free Pumpkin Cupcakes
(recipe coming Monday)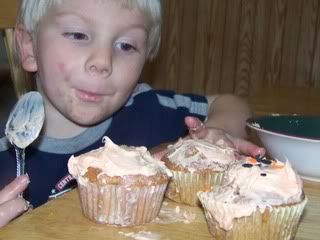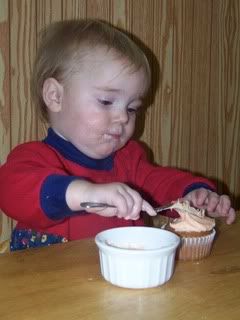 The Fall Festival at Tim's School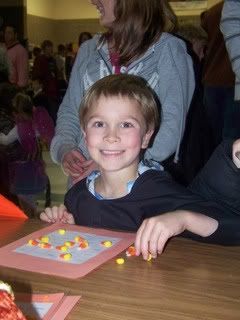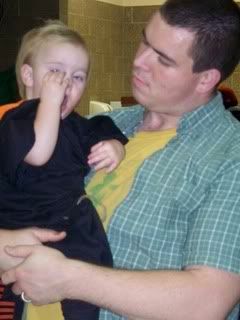 Pumpkin Story Telling
(Have you heard the story of the teeny tiny witch who makes her house out of an orange piece of paper?)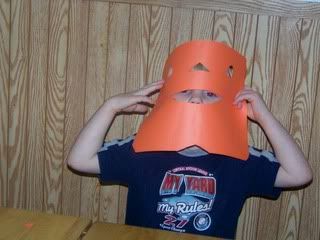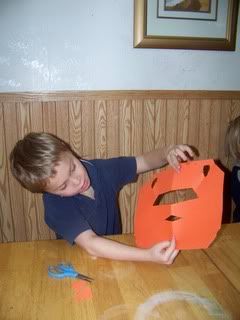 And,
Carving Our Pumpkin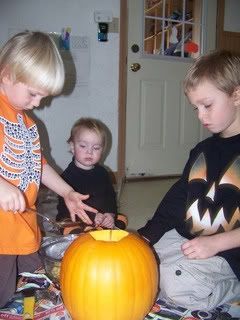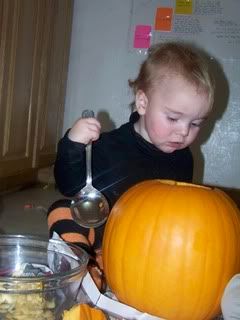 Have a safe and fun Halloween everyone!
My apologies to those subscribed to the email feed who received a blank version of this post first.