As a part of my Thanks for Reading! series, today I am welcoming Jenny to share some ideas from her home as a guest blogger. She has some fun ideas for continuing to incorporate art as our children grow. To learn more about Jenny and read other things she has written, you can visit her blog,
Home is Where You Start From.
Homeschooling two children, ages 7 and under...or even three children ages 8 and under- looked a bit different a life-time ago.
Different from my reality today of homeschooling 5 kids- my youngest student age 7.
Our beginning years were cozy/crafty years enjoying literature-rich curricula like
Five in a Row
with plenty of art projects scheduled in. Today, I have a high school student, and even my younger students have much material to work through weekly. Craft time had become pushed aside.
Crafts and projects bring a richness to our children's lives, for me they paint fond memories of my own childhood, memories and experiences I want my kids to enjoy. So what is a busy and incidentally- an organizationally-challenged homeschool mom to do?
My answer is Craft Fridays- an intentional day of our week set aside to enjoy a craft or project. These projects often tie into our studies for the week (I love connections!), but sometimes they are just for fun.
Craft Fridays are a little lighter, school-work wise. We continue with Math, because here, everyday is a Math day...and usually a few other subjects, but I lighten the load, to leave room for a fun craft. Many of my craft ideas are improvised from memories I have of school crafts... I have found 101 uses for tissue paper and glue, and 103 uses for the mighty paper-plate. Did you know a paper plate can be a sunflower for a study on plants, a turkey for Thanksgiving, or a color wheel for art study?
Many of our projects come from our use of The Story of the World Activity Book
, library books and from websites such as Enchanted Learning. I began to institute Craft Fridays as a regular scheduled 'thing' after being inspired by a few homeschool mom blogs.
Over at By Sun and By Candlelight, they almost weekly, I kid you not...find a feast to celebrate. This challenged me to find more childhood delight in the everyday at our house. They also do many nature inspired things, and lots of baking. :) Over at Se7en, something crafty is always going on...and she gives detailed instructions! Se7en challenges me to get my craft on. After all, she is a homeschool mom of 8- and yet finds time to do some amazing, fun crafts with her kids.
This week at our house, we did a fall-inspired project. Leaf stained-windows; a craft I remember from my childhood, I like to do it each fall.
Supplies
4 or 5 colorful fall leaves per child
a roll of wax paper
Crayons
an iron
The Fun Part
-Take the kids out for a fall nature walk and collect leaves
-Place a sheet wax side up (scratch it with your fingernail to figure that part out)
-Place leaves face up on the wax paper
-Sprinkle grated crayons in fall colors- or even rainbow colors (I find a blunt knife makes nice sized shavings and smallish 'chunks'...less tedious than trying to grate them)
-Place another piece of wax paper, wax side down on top of the masterpiece
-With your iron set on the lowest setting, gently smooth over the wax paper. The wax paper and Crayons will melt. Make sure to seal the edges with the heat.
-Let the creations cool a bit and then you can hang, 'as is' or make colorful frames for them out of construction paper or yarn and hang them in a window.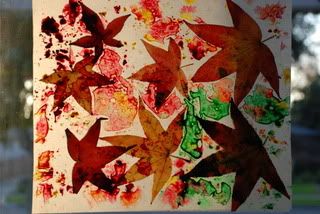 Jenny's favorite art books
Linnea's Almanac
The Gardening Book
Learn and Play in the Garden
Discovering Great Artists: Hands-On Art for Children in the Styles of the Great Masters
How to Teach Art to Children, Grades 1-6
I hope everyone is able to enjoy art each and every week!