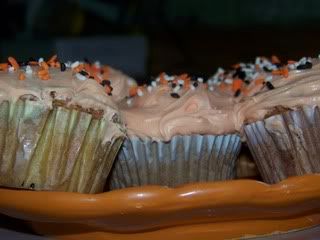 Gluten Free Pumpkin Muffins
(pumpkin cupcakes if you add frosting like we did)
Preheat the oven to 350 degrees
Blend together-
3 Cups Sugar
1 Cup Oil
3 Eggs
2 Cups Cooked & Pureed Pumpkin (or 1 16 ounce can)
Sift together-
3 Cups Gluten Free Flour Blend*
1/2 tsp salt
1/4 tsp baking powder
1 tsp baking soda
1 tsp ground cinnamon
1 tsp ground nutmeg
Add dry ingredients to wet ingredients and mix thoroughly.
Optional- Fold in 1 Cup chopped nuts
Fill muffin tins 3/4 full and bake at 350 degrees.
Cool and decorate as desired.
Makes 2 dozen.
*I recommend a 25% blend of each of the following flours: potato starch, tapioca starch, white rice flour, and brown rice flour.
This recipe is also tasty as pumpkin cake when cooked in a greased and floured 9x13 pan and dusted with powdered sugar.
To read why our family is gluten free, click
here
.
This recipe is submitted to
Homemaker Monday
on
11th Heaven's Homemaking Haven
and
Gluten Free Tuesday
on
Vicki's Blog.