Welcome to the Homeschool Highlight Reel, a place for homeschooling families to share ideas, encouragement, and inspiration. For more information and to read the rules, click
here
.
Last week I noticed some of my button codes are not working properly any longer. I will try to fix those before next week. I'm also thinking of updating them anyways... we'll see how the time goes there!
I do not own a botany cabinet. It is one of those materials I have not been able to bring myself to purchase. I do, however, think exploring and learning leaf shapes is very important. As I explained,
here
, in one of my first posts, last year I made a set of 3 part cards with the most common leaves found in our area. All of the leaves on the cards can be found within one mile of our house. We also have the
parts of a leaf
cardwork that goes with the botany leaf puzzle.
I wanted to take leaf shapes a step farther, however, and give the boys some other ways to explore. Earlier this fall, we did leaf dissection following the same procedure as the flower dissection shown
here
.
To make things more interesting, I decided to do a 3 part art project to give the boys more ways to demonstrate leaf shape.
1. Pin Punching the leaf. The leaf is placed on construction paper, a dot placed at each point (to help trace more easily), and then the dots are connected along the edge. The use the pin punching technique to punch the leaf from the construction paper.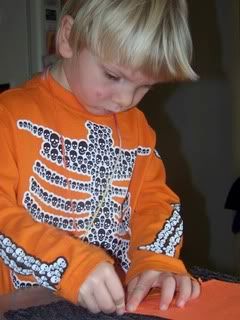 2. Leaf Rubbing with crayons. The leaf goes under and rub over it with a crayon.
3. Leaf printing with watercolors, explained
here
by Jean at the Artful Parent. I will be honest, I didn't love how this turned out, but I'm not sure that the paper I used wasn't too thick. It absorbed the water more quickly than the leaf did. The prints are there, but they are very light.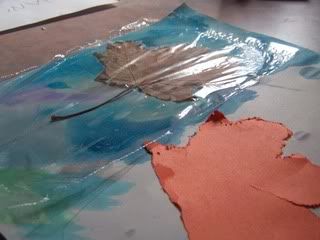 The finished products (with the plastic wrap still on for drying!)
This picture also has a nice sample of Aidan's impromptu writing. You can see he is working with the "ee" sound right now! I think there must be something natural for kids about using capitals, because we don't even have the capital sandpaper letters and we've never done more than simply match capital to small and talk about rules for using capitals at the beginning of a sentence, yet he continues to place them in the middle of words. I think its when he deems it an easier letter to write than the lower case.
So what have you been up to this week? I look forward to reading your posts, be sure to join into the MckLinky fun by visiting the other participating blogs.