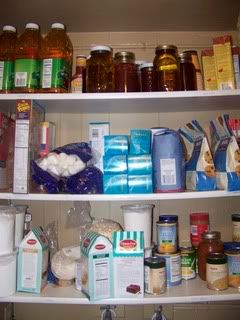 First of all, let me say that I believe strongly in the importance of food storage. I believe food storage is important for times when money is short, life happens, and in the event of a natural/other disaster.
My initial goal for food storage was to have at least 2 weeks of foods on hand. According to Storehousefoods.com, the average grocery store is empty within 72 hours of a natural disaster and takes 14 days to resume normal shipment. I can tell you with absolute certainty that I feel blessed to know I do not have to worry about that. There is a huge peace of mind that goes alongside having 2 weeks of food in storage.
My primary reason for food storage, however, is not natural disaster. It's just life. Things like morning sickness, unexpected job loss, death in the family, needs of another family, and more. It is also cost effective. By having food on hand I am able to only buy things when they are on sale (like the 4 bags of frozen chicken I bought on Friday for less than $20). On an average week, I only grocery shop for milk, eggs, fresh produce, and sale items. I have tried the couponing thing, but I find that simply paying attention and shopping sales saves me just as much money and far more time than couponing ever did.
My pantry has grown exponentially this way. My grocery budget stretches so much farther and I am able to spend less now to feed a family of five than I used to feed a family of three, with putting food away. Our pantry and freezer foods would now feed us for at least a month, probably closer to two.
When we switched to primarily gluten free living, however my pantry took a fairly substantial hit. I didn't know what to put in there since most convenience foods are not gluten free and they are all very expensive and go on sale rarely.
I have stocked my gluten free pantry three ways:
Amazon Grocery. This is the biggest one. I purchase all of my pasta, and some of my cereal and crackers by the case. Each case tends to last 2-3 months and I repurchase when I get down to 2-3 of each item. Amazon does offer a subscription service on their grocery items. Subscription is free and usually offers a discount above and beyond the already cheaper prices! Shipping on order over $25 from certain sellers is also free.
Bulk flours. Finding a good source of bulk gluten free flours is a must. The tall plastic containers and plastic bags in the picture above are all different varieties of g-f flour. I keep at least one month's worth of flour on hand at all times. (Most gluten free flours do not have the shelf life of wheat and need to be rotated more frequently. Storage in the freezer can also expand shelf life.)
Sale items at the local co-op and grocery store. This is the least efficient way, but I have found some good deals. All of the Mi-del and Gluten Free Pantry products shown above came from a going out of business sale at a grocery store. I was also able to get 2-3 years worth of xanthan gum for 50% off. That was a huge find! Let your friends and family know what gluten free products are worth keeping on hand. It was on the tip of a non gluten free friend that I was able to hit the going out of business sale!
What is shown in the above photo is only part of the my food storage, but hopefully this will give you some ideas of where to start if your pantry needs to go gluten free so that all members of your family can continue eating well if the need arises!