I have wanted matching bedspreads for the boys for awhile now.
My problem, however, was two-fold. First of all I can't quilt and even if I could, a project like that is very time consuming. The second problem is that quilts are expensive and I wanted them to match so I was limited to buying new.
There was also the issue of twin size quilts being a little bit too large for bunk beds due to the railings, a problem exacerbated by the fact Aidan's bed has solid rails on all four sides. I was less concerned with that, but it was definitely on my mind.
But alas, I found a solution that both my wallet and sewing skills could live with. Not to mention, solved my sizing problem.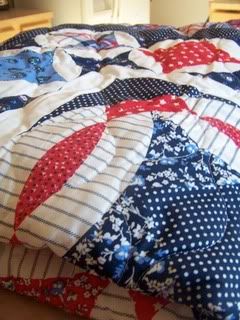 Step 1- Find a king size quilt in the right colors. Buy 2 3-yd packages of double fold bias tape and a spool of thread in as close of a color as you can find to the original quilt binding. It comes in about every color of the rainbow and more, so you should be able to find something.
Step 2- Cut the quilt in half lengthwise.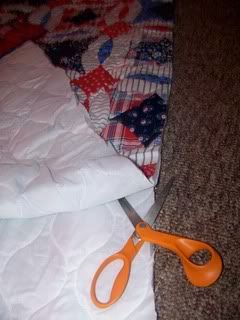 Step 3- Pin the bias tape in place. As you can see, I was able to match the bias tape to the original binding almost exactly.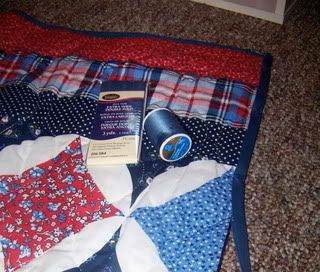 Step 4- Using matching thread, sew on the bias tape. If you are not an experienced bias tape user, be sure to pin well and go slowly to ensure you stitch though all of the layers, I find using a longer stitch length to be helpful.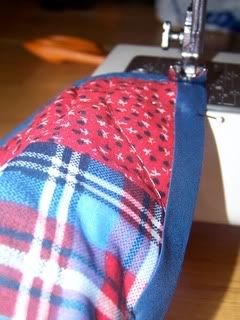 Repeat steps 3 &4 for the second quilt piece and enjoy!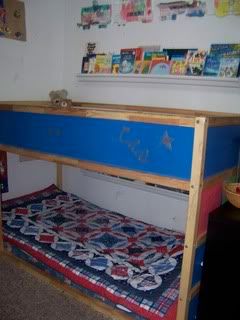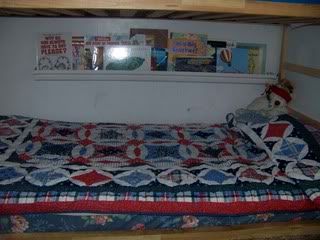 I found a quilt on sale for $19, so I spent around $30 total on this project and it took less than an hour, start to finish.
By
making your own bias tape
or using a gently used quilt you could cut that cost down significantly.
One note, because this makes a narrower quilt which is better for making bunkbeds and easier for kids making their own beds in general, it also might not cover up bigger kiddos as well!
I love how they turned out and the boys do as well. It is amazing how much cleaner their room actually looks with matching quilts on their beds each day instead of the mix and not-matched blankets they had before.