We have a weekly Popcorn Night tradition at our house. Every Sunday we have our big meal after church and then have a light supper of popcorn and snacks (often recreated leftovers) while we watch a movie together. Sometimes we play a game or invite friends over to share popcorn night with us.
For Advent, Tim and I decided that we are going to do popcorn night a little differently. Instead of a game or a movie we will be doing special family activities relating to the season and spirit of Advent.
This week, we lit our candle and sang our Advent song and then had dinner at the table instead of the living room floor. This by the way was a stressful change for my 4yo who insists this is against the rules. Apparently, we are supposed to eat in front of the TV even if it is turned off!
The boys also opened their 1st Sunday of Advent gifts from my mom and dad, who get them a new ornament each year based on a memory from the year before. Kylee had a little Snoopy ornament this year and I was a little confused as we don't have a dog until I read the box (my mom writes on the for me- THANK YOU!). Now I remember the time my sister's dog went to lick Kylee's face and Kylee turned and tried to latch onto the dog's tongue! I can't wait to keep telling that story as she gets bigger! Aidan's ornament was about learning to read this year and Caleb's was a blue scooter because he has (and LOVES) his blue scooter!
As our family activity, we made a paper chain for the days in Advent. We had gotten the kit from church last week but waited to assemble until Sunday. It was fun to talk about the length with the boys. They remembered right away that it was not as long as
our Lent chain
from earlier this year! Then we re-read the story from this morning of Jeremiah prophetizing a new King and read a second story that talked about who Jeremiah was. (All of our reading was done from the
Spark Story Bible
, which is the best kid's Bible I have ever seen.)
Here are some pictures from Sunday.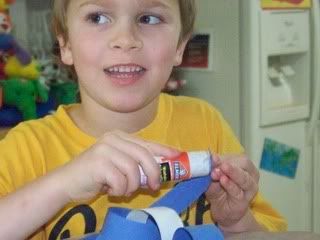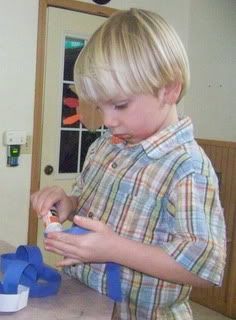 While the boys were getting started on the chain, I looked over to see Kylee standing at the kitchen sink scrapping sour cream out of an empty container with a spoon. I am a responsible parent, I swear!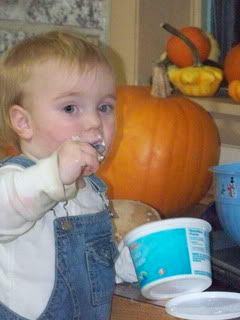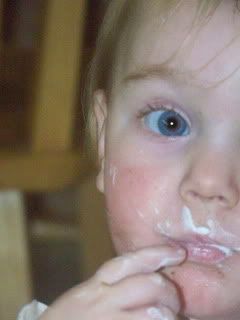 Everyone helped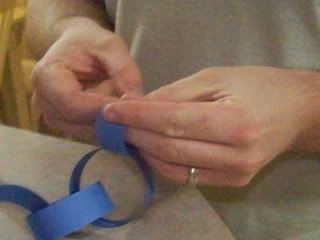 Kylee added the last chain...a yellow link for Christmas Eve.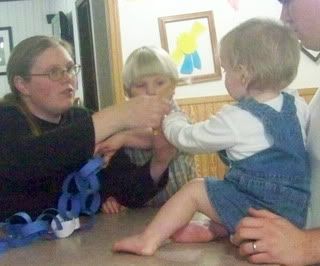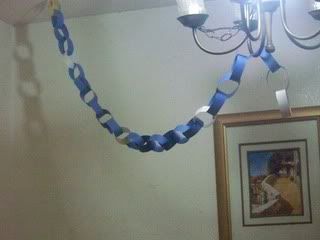 For the 2nd Sunday in Advent, we will be doing the Feast of St. Nicholas activity I blogged about
here
. I will definitely share pictures and let you know how it goes!