Since Kylee stopped napping in the morning, work time has gotten more entertaining for all of us. We have learned she will sit in her chair at the table for a little while with some color crayons and a snack, but sometimes we have to get creative. Here is one of our favorite distract Kylee activities.
It's just a shallow plastic bin laid on top of a bunch of towels and filled with water and miscellaneous kitchen utensils. Watching her try to scoop water with a sifter is entertaining if nothing else.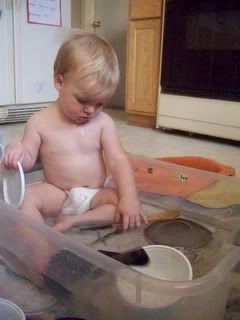 Her brother came to the rescue, however, to demonstrate proper ladling technique!