I love toddler hood. Toddlers and I just get along. The toddler tidbit on my mind lately has been independence.
Kylee is really starting to explode into helping with jobs and wanting to do more and more for herself. One of the problems, however, is that our homes are not really designed for toddler scale learning. We make adaptations with step stools and small chairs and tables, but the overall scale is still BIG.
Readers have already seen
Kylee's room
and have seen our
XL step stool
to help her reach the kitchen sink. I have shared a few of her
Montessori activities.
What I have not talked about at all is how we encourage independence from a young age. Here are a few key items and tricks that will help a toddler work on their self care skills.
Feeding
Enamelware Mini mug
- This is the only cup Kylee ever used. It is short enough not to tip over and is the perfect size for her hands. I can easily throw the cup in my purse for outings and fill it up one toddler sip at a time to avoid dumping. She actually gets mad and gives sippy cups back to me now!
Child Size Wooden or Metal Forks & Spoons
- My first choice for toddler sized utensils is bamboo, but metal is my second choice. Metal doesn't feel as nice in the hand, but it is easier to find than wood. One tip for finding child size utensils is to visit a kitchen outlet store. I have found many miniature versions of kitchen gadgets for a much better price than what I can find through speciality stores online. Plastic discolors and doesn't feel natural in the hand. Would
you want to eat all of your meals with plastic utensils?
Plates & Bowls
- I prefer a small wooden bowl for Kylee (I picked up a set of shallow wooden bowls for .20 each at a local thrift store), but I am admittedly less picky in this area. The most important factor is that the opening is neither too wide nor the bottom of the container too deep.
I think the best way to encourage independence in this area of self care is simply to establish the mindset that we are not feeding the baby, but rather helping the baby feed him/herself. I don't like high chairs the require Mom or Dad to turn away from the table to help, and prefer chairs designed for babies that pull up to the dinner table with the rest of the family. I have been known to use a standard booster chair with a good strap as soon as baby is sitting solidly. Baby (and toddler) will feel more like feeding themselves if they are close enough to observe and watch everyone else eating.
My goodness, Heidi...what about the mess?
Well, yes. Letting a toddler feed themselves is messy, but I try to approach the mess as a good opportunity for some cute pictures. I also think it is a small price to pay for mom eating dinner with the family instead of scarfing it down quickly as everyone else is finished or before doing the dishes. No cold dinners for the mom who encourages their toddler to self feed from the start! Well...almost no cold dinners.
Dressing & Washing
I won't cover all aspects of dressing and washing, but I do have a few favorite tips that you might find valuable.
Hair- Yes Kylee is my first girl, but she does not have the longest hair (yet). That prize goes to Caleb and I quickly learned that I needed to find a method and tool that was both gentle and allowed him to help. I found the answer in this hairbrush. The bristles are sooooo soft and even Aidan wants to use it to brush his hair even though it isn't usually necessary. Kylee is now starting to practice brushing her hair and even when she accidentally hits her head a little too hard with the brush it doesn't hurt her.
Dressing- My favorite learning to dress tip is adult socks. I think this picture of 2 year old Aidan speaks for itself.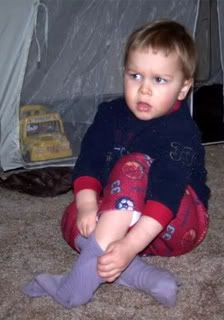 Aidan also taught me many other tips for learning to get dressed. Rain boots are easy to pull on, shorts are easier than pants, anyone can put on their own hat, and necklaces go with everything. Lastly, he taught me the most important phrase in a toddler's vocabulary,