...for some snow. Or maybe like a foot or so of it.
It started snowing on Tuesday and the kids were ALL so excited. I was actually surprised how excited Miss Kylee was. They were actually out twice Tuesday- helping shovel a little bit and setting the groundwork for their annual snow fort.
Last year
they made it in the backyard, but we decided to go with the front yard this year so they could get into it almost straight out the front door. By the end of Tuesday they had a pretty nice outline laid out.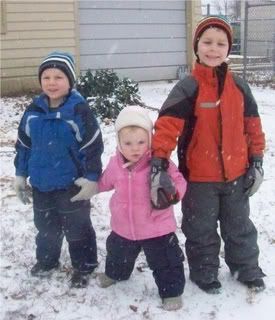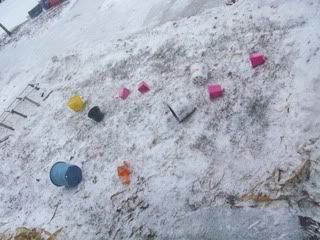 I kept telling the boys not to worry, more snow was coming but I don't think they believed me. They wanted me to cart snow from the other side of the house to the front to make the sides higher.
When we woke up on Wednesday morning this was the sight across the street.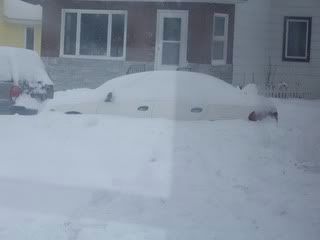 As of noon (right now), we have spent about 2 hours of combined shoveling time and figure ourselves to be roughly half done. Part of Tim's time, however, was spent helping some college students dig their car out. I imagine there may be more of this as the afternoon goes on. This guy didn't even have a scrapper! He was using our big push broom to clean off his car while Tim dug him out. Once they had a wide enough gap in the snow, Tim still had to push the car out!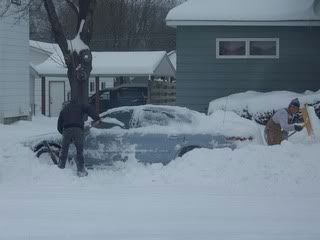 I'll have to take a new picture of the fort in a day or two. Its SOOOOO clean and white right now I couldn't get a good shot, but the corners are almost as tall as Aidan. It reminds me of back to back March snowfalls we had a few years ago...when the banks were as tall as then 3yo Aidan and 1yo Caleb could hide in the holes we made.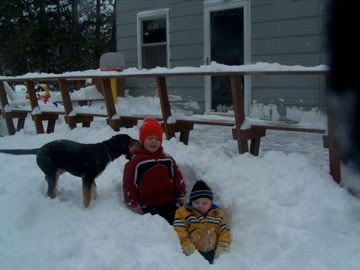 This year, our 1 year old has been quite worn out by the whole playing in the snow ordeal and found herself face down in some cottage cheese before lunch time!