We've been really playing with our diet around these parts over the last few weeks. For several reasons, including the fact that I seem to have developed some sort of possibly pregnancy related lactose issues, we have been experimenting specifically with vegan foods. We've never been huge meat eaters, and we cut red meat out of our at home diet a long time ago (with one exception which I'll talk about some other time when a- I have a better idea of what we ARE doing with our diet and why and b- I have more time to write it all out).
I actually won a copy of
Vegan Cupcakes Take Over the World: 75 Dairy-Free Recipes for Cupcakes that Rule
, which has a gluten free version. I do like to bake, so I've been enjoying trying some new recipes. Everyone loved the Oatmeal Banana cookies from
Vegan Lunch Box
. That recipe was great because it was naturally gluten free (with an eye to the oats). They were also completely lacking in processed sugar, which is always nice as well.
These little soft chewy beauties, however, have been the best by far!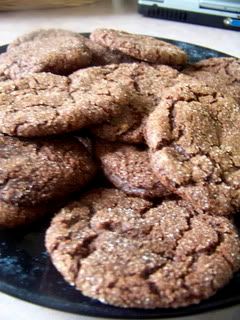 Mexican Hot Chocolate Cookies
from the
Post Punk Kitchen
blog. My friend Holly recommended the recipe and sent me on my way. I won't (can't) copy out the recipe here, but I will tell you the changes I made to make these cookies gluten free.
First of all, I doubled the recipe (2 dozen cookies and 5 people is just never enough) which increases the flour amount to 3- 1/3 cups of flour. I used 2 Cups of brown rice, and 2/3 cup each of tapioca starch and potato starch. Per Holly's recommendation, I also used 7-8 Tablespoons of non-dairy milk instead of 6.
Do you want to know the best part of these cookies? They are SATISFYING! The little kick of heat at the end makes you only want to eat one cookie. Not so much you feel like your mouth is on fire, but enough that the taste stays with you so you don't feel like you need to eat another one right away.
Then again, I'm sure I'm the only person who has that problem when it comes to cookies.