On Tuesday night, a good friend I met through the infant loss remembrance program at our hospital dropped off a carseat and baby papasan swing, along with a few baby clothes. I didn't really do much other than drop them at the bottom of the steps, but as soon as Kylee woke up on Wednesday morning she ran to get her baby dolls and put them in the swing. The most interesting this is that I don't know how she knew what it was as we haven't normally used a baby swing!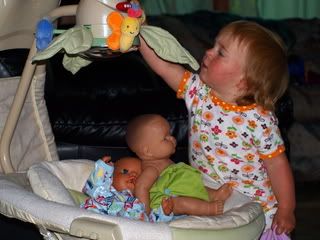 You may also notice that the one baby has a cloth diaper on her bottom. She has been stealing from my newborn stash for her baby dolls! I got a package of fluffy mail a few days ago and she was digging into the box faster than I was.
I think she's ready.