I was baptized in 1981. At that time, my mom was working at a Catholic school and one of the nuns knit me a white sweater. I used to have a picture of myself wearing it on my baptism day, but unfortunately that photo album was severely water damaged following the fire.
I can live with the loss of the pictures, but I admit to being quite relieved we were able to save the sweater. We were also able to save our baptism gown, another relief! I was grateful that Logan was able to wear both as his siblings have before him.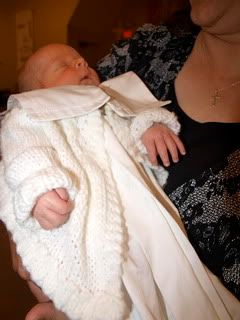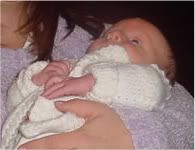 Aidan's baptism was pre-us owning a digital camera and so far I haven't found a baptism picture, but I think I still have one somewhere. When we get to Utah I pray I can find one in the boxes of smoke damaged scrapbooks.
I love passing down special things from generation to generation. Maybe someday another generation will wear this sweater and share it's story!