Seriously.
Logan will be 7 weeks tomorrow and yesterday he rolled over from his tummy to his back for the first time. Twice.
Then he did it again today.
Seriously? How is that possible?!
Did I mention it was the first time I had ever put him down on his stomach for tummy time?
He is so small it doesn't look remotely normal.
In other *firsts* news, Logan couldn't wait a full year for his first swim in Grandma's pool and when I saw the 0-3 month swim set for 70% off at the Carter's outlet I had to snatch it up and take advantage. It was totally a steal and definitely worth the photo op, even if it only lasted about 5 minutes!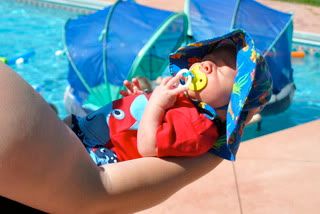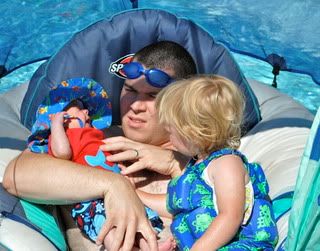 (You didn't expect to see me in a swimsuit on my blog, did you? I just had a baby 6 weeks ago..there will be no pictures of that!)
Logan also gave us his first smiles on the same day, but so far he's a little camera shy!
And people other than Mommy shy.