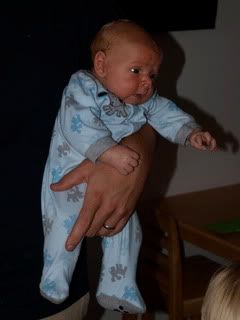 Can you believe how big this little man is? Just for comparison's sake, here he is in Daddy's hands at a few days old.
Per our bathroom scale fancy adjusted weighing method (you know, the one where you weigh yourself and then weigh yourself with the baby) he is between 11-12 pounds. That means he has, or has close to, doubled his birth weight!
He has a great ear to ear grin that he saves up for whoever is lucky enough to earn them on any given day. He can roll over from his tummy to his back and holds his head up really well both upright and on his belly.
All in all, his first two months have gone by far too quickly and chaotically for my liking and I am hoping to spend time in the coming months slowing down to enjoy his babyhood before it is gone.