I cannot believe that another year of Kylee's life has flown by. One year ago, she wasn't walking and now she is running and climbing at super speeds to keep up with her brothers. Kylee is a girly girl who doesn't mind getting dirty from time to time. She loves to swim and laugh and her smile lights up our lives. Her brothers dote on her and she, in turn, dotes on Logan.
Kylee brings an abundance of joy to all of us. She never fails to make her intentions clear with her many, many words! She moved into her own bedroom with Caleb this week and is sleeping in her bunk bed like a big girl. For her birthday she got her very own pink potty chair, which she loves to sit on... and make her baby sit on. I don't think it will be long before she is ready to use it all the time.
We celebrated Kylee's birthday with Grandma and Papa before they headed back to MN after helping us move. Grandma brought her back to their hotel and got her all dressed up in a new dress...complete with a matching dress for a *new* baby (it was actually my old Cabbage Patch Doll). When they came back, we had presents, supper, and pink cupcakes for dessert.
Here are some pictures from Kylee's birthday celebration!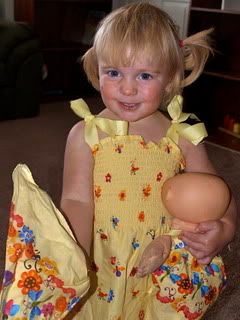 Happy Birthday, Big Girl! I know you will continue to amaze us as you grow in the coming year.