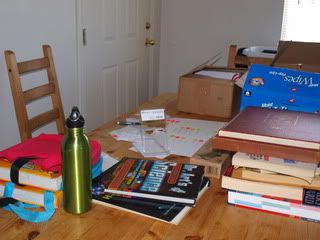 Today, I finally got to break into the boxes of school supplies! The main jobs are done, so today I started going through our books while I was waiting for laundry to finish. Since we use a Charlotte Mason inspired approach to language, history, & science at the elementary level our books are probably the most important materials we have.
I have always wanted to figure out how to organize our books better so I could find things more quickly, but the task always seemed overwhelming seeing as we had cases full of books before the fire. Now we have probably less than 50 and they were all off the shelves already so I thought it would be a good time to do some organizing.
I looked at an online cataloging system, but eventually decided on spine labeling. I got a bunch of labeling dots, then made a key for each subject. Different letters and different colors mean different things and a book can have more than one dot. For example a book on animals in Africa would have 2 dots- 1 for Science, and 1 for Geography.
The shelves are fairly empty right now, but I know they will fill up quickly!