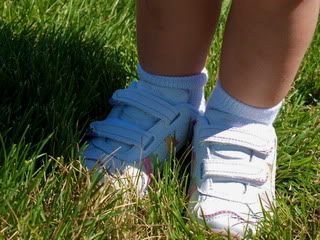 That would be my daughter's fat feet. I always thought Stride Rite's were of a splurge that I didn't need to make. I always make sure to have the kids feet measured to make sure I buy the right size and I don't hand down shoes, but I never spent the bucks on the *fancy* Stride Rites.
Until now.
After two consecutive pairs of shoes that were supposedly the right size, the people at Stride Rite (via their handy e-size measurements) finally found a pair that wouldn't cause my daughter's feet to bleed.
So, thanks Stride Rite. I have been converted.