One of the ways I have decided to incorporate Godly Play lessons into our curriculum is to use lessons that are liturgically relevant or tied into our curriculum or family life in another way. Sometimes that will be one per week, but sometimes (usually) it will be less.
It is recommended in the Godly Play books, that the presentation on Holy Baptism be used on Christ the King Sunday or any other Sunday when a baptism is celebrated. I figured the date one of the kids was baptized was as good as a "Sunday when baptism is celebrated". Tuesday was Kylee's Anniversary of Baptism. Even though I'm not getting to share these photos and tidbits until today, we were able to do the lesson on Tuesday morning as part of our morning circle.
Because Godly Play is a published curriculum (unlike Montessori which holds no trademark or copyright- there are many interpretations), I can't share the entire presentation here but I will share our photos and some of my own little additions & adaptations. I have no training in Godly Play so this is all my amateur version.
Layout of the Materials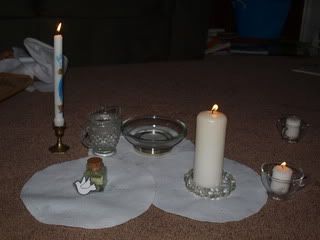 Aidan moves the light from the Christ Candle to his individual light using a Baptismal Candle. Glass teacups from the thrift store held the votives perfectly for little hands.
As part of the lesson, I presented each of the kids with a photo from their baptism day with the date and place of their baptism.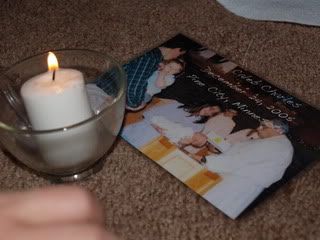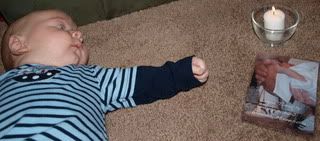 When we used to attend Godly Play classes, the art follow up time seemed forced, but at home things came much more naturally. When we moved into our open work time both boys instantly picked up an activity and made it into an extension of the lesson. This is why I love the Montessori approach- no worksheet to show what they learned, they just showed what they learned without prompting.
Caleb wanted to write words so he dictated to me and then copied.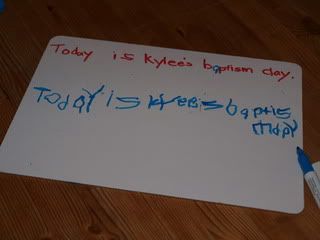 Aidan did a painting. He even brought the taper to the table to paint it with detail.