Everyone was feeling quite refreshed after a little more than a week off from *official* school work. We put out new materials for Asia and also for vertebrates. My dad has spent a significant portion of his career (like all of my middle school and high school years) working in Asia for large chunks of time so our continent box is filled with really neat authentic materials. After the fire, my parents redid our continent boxes and this is the first time we have had any of them out. (We are rotating one at a time this school year.)
Teaching Kylee about nesting dolls or matryoshka dolls from Russia.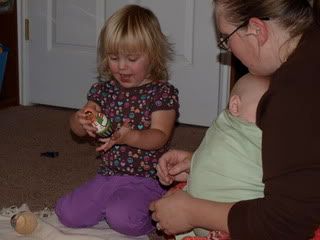 She jumped back to it first thing the next day and every day after that.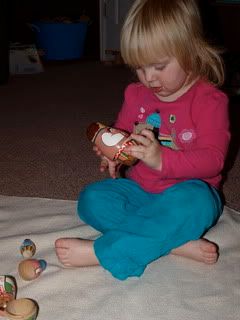 Caleb and I headed back to the Golden Beads after sticking to number review for the first couple months of this year.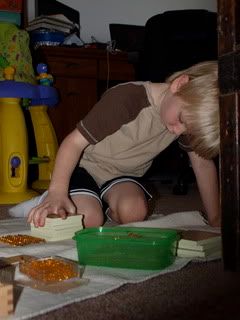 At our second lesson, Caleb decided to take out all of our hundred, tens, & units and *write* that number with the small number cards. It was a great segway into exchanges which we will be working more on next week. As we are putting the units into piles of tens, you can see his fingers working overtime.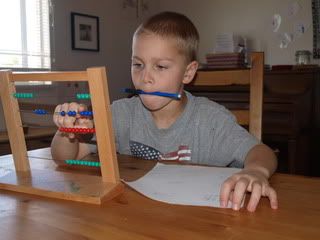 Still working on basic facts, this time with the
Shut the Box Game
.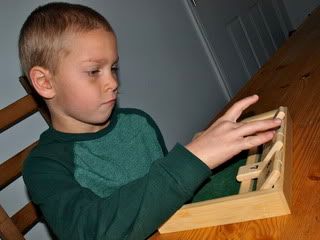 We also made it back to our timeline, which has been neglected for almost a month.
Finally, I did some furniture rearranging to move our small table closer to the kitchen. Our counters are just too small for kid cooking and the big table isn't that practical. This was much better! It's also helping keep snack eating off of the main table during school time. It's not a perfect fix because now we lost our small work table, but this seems to be the bigger need.