In all the homes of my adult life, I have dreamt of a special place.
A place to keep things.
A place for focus.
Centering.
In all of our prior homes, six in total, my dream has never found its way together.
Maybe I was trying to hard.
Forcing something that can't be forced.
Without much effort on my part, a sacred space has grown into our home.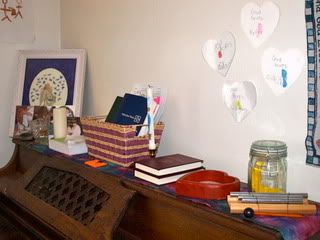 We are keeping many things in this safe haven on the piano.
Pictures, candles, & hymnals (Thanks
Becca
!).
A prayer book, small catechism, God's 10 Best Ways Cards, & fragrant oil.
The Bible, jar of memory verses, and chimes.
A place we can all visit every day to find materials for our own use.
And a place we can gather together as a family in song and prayer.
And the most wonderful part?
We are.
After all of this came together, I looked at it all and said to Tim,
"I should really make some underlays in liturgical colors."
He just laughed.
Do you have sacred space?
How do your kids make use of it?
I would love to see or hear your ideas.