Tim's grandmother has been sick for a long time and has been VERY sick since early August. Last Thursday overnight, *Grandma D* as the kids call her passed away quietly in her sleep. Tim's mom had already been planning to visit us as Tim is on fall break this week, so after some rearranged travel plans we made a last minute readjustment and flew to MN instead.
It was the first time the kids had flown and they did FANTASTIC. No, seriously, I could not have been happier with how things went and I am so glad we are flying again for the holidays instead of driving. By the time we landed, Logan was looking quite disheveled, although in reality he actually slept the whole time. I did all of my new blog photos and layouts while we were in the air.
Although most of our time was obviously spent with Tim's family, we were able to squeeze in a quick visit to my parent's house (sans Tim) on Sunday afternoon. We scammed...I mean talked....my dad into setting up our old trampoline for the boys to bounce on which was lots of fun. My mom had knee surgery a few weeks ago and I was a nervous wreck the whole time that someone was going to forget and pounce her, but thankfully the kids seemed to remember. That being said, I'm unsure if she could walk the next day after all of their boundless (and bounding) energy!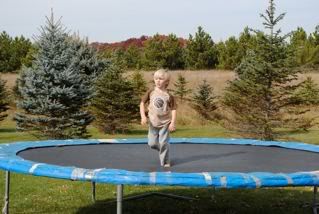 The rest of the week passed quickly with funeral arrangements and time with family. We were able to stay with Tim's sister which was a bit of an adventure with 7 kids, 7 & under... 6 of them being boys! Unfortunately I didn't end up with any pictures of cousin time which was too bad because the kids really did have a blast together. They recently began their own homeschooling journey and we were able to talk shop a bit, which I always enjoy.
If you know me at all, then you know I am not so much an impromptu kind of gal. I like things well planned out. I like to be early and have plenty of time to think about things before I actually do them. Tuesday afternoon I got the itch to visit some friends about two hours away. I didn't have a vehicle and we looked into train schedules, airport shuttles, and finally settled on a 24 hour car rental.
I totally invited myself (and Logan) over to Meredith's house (her son Isaac took the next two pictures), crashed my old co-op's Mom's Night Out, darn near made my friend Jamie pass out when I walked in her door without calling or even knocking, and enjoyed a really fast lunch with Leigh. It was exhausting but extremely worth it! I might have to make a habit of these impulsive crazy things. I probably won't, but you never know. I could turn over a new leaf, right?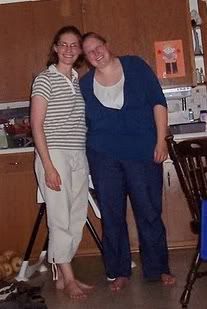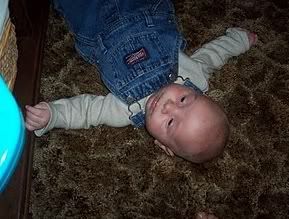 Actually one of the funnest parts of all of it was the look on everyone's faces when they saw Logan. We left Minnesota at 9-10 pounds and came back around 17 only two months later! He does not even kind of look like a preemie any more which is so wonderful.
Our flight home was smooth, although our seating arrangements were not nearly as nice. Initially they had us in 5 different rows. Fortunately we were able to get into a row of 2 and a row of 3, but we were on opposite ends of the plane. I sat next to a woman who recently graduated from teaching college and had a wonderful chat with her about teaching and schools. In fact, I probably gave her way too much information disguised as encouragement.
Now we are home and we are slowly reorganizing and adjusting ourselves to get into the swing of things next week. Hopefully I can get back into the habit of posting regularly. Of course, I haven't started Halloween costumes yet so I might be locked in my sewing room trying to work on that instead...