Fall is such a beautiful time to camp.
This time last year we visited a state park and then drove through the mountains and hiked to waterfall.
This year we headed out to visit the Great Salt Lake. In 24 hours, we took 2 hikes, splashed in the water, and visited the historic ranch located on state park property. Like last year, I took way too many pictures. My apologies for how long this post is going to take to load for some of you!
Hike #1- Climbing on The Rocks


Hike #2- Looking for Signs of Animal Life


Flashback. Aidan minus 2 years
Animal Track In A Rock
Do you see the snake? Aidan saw it from 5 feet away!
Kylee's big find- a black beetle. She was so proud.
Buffalo Tracks
Buffalo Dung
Um, that's a a buffalo!
At Water's Edge


Eventually we had to ditch the pants
Now that we are all wet we should definitely roll down a hill of sand, right?
Around Camp


My washer still hasn't recovered from these jeans.
Another flashback- Logan during camp meals last year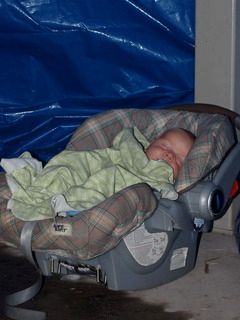 Moon in the morning- that is the point we hiked out to where we saw the buffalo.
Visiting the Ranch


Other than a really rough few hours from about 11:00-2:00 when Logan and Kylee decided they didn't want to sleep in a tent, this was probably the best camping trip we have ever taken. During camping I get all these great glimpses into how much the kids have grown. This year the boys not only wanted to help set up the tent, but they actually did a good chunk of the work. Last year Kylee was in the backpack this year she was climbing rocks. Aidan just looked so grown up when I went back and looked through the pictures. Logan was interested in everything we saw and did. When people say it goes fast, it really does. I will close with one more flashback. This is Aidan at 11 months old the first time we went camping as a family, just the three of us.