Every year we try to have a *theme* for our family for Halloween. I just think it makes things more interesting and less commercial. One year all of the kids were witches & wizards, last year I made
animal capes
(which have remained a big hit in our dress up bucket), and my favorite was the year Caleb was the Grinch and Kylee was Cindy Loo Who (2010).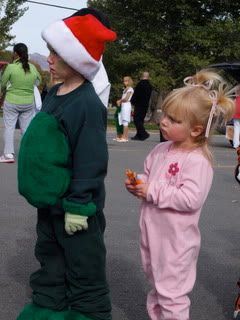 This year the boys really wanted to go with an Avenger theme, but I wasn't ok with Kylee dressing up as
Black Widow
, so we ended up with something resembling Hulk and Hawkeye rescue the princess from the baby dragon....
If you notice, the green Grinch sweatsuit has had the fur removed to become the Hulk. I had the most fun with Hawkeye. The black sleeveless top is actually a fleece jacket with the sleeves cut off, paired with black dress pants. One of the sleeves was sewn shut on the bottom with a black ribbon added for the arrow sling. The arrows were dowels painted black, sharpened on one end, dipped in silver for the tips, and feathers glued to the ends. They were kind of fun to make and the whole costume was less than $10 with thrift store finds comprising the pants and jacket. Tim added a spiky haircut to complete the look.
Planning themes is always a long discussion, started well in advance of the actual day. They are already planning the year they are old enough to be Peter, Edmond, Susan, & Lucy.... I think they plan to dress Logan as Aslan that year.
We don't do any Halloween specific decorating and we avoid excess special events, trying to keep it to no more than one or two. During the Fall, we always have a
night where we make gluten free donuts, roast our pumpkin seeds and paint or carve our pumpkins
. This year we won't get there until Saturday, but in the meantime we have a few more family projects for All Saints & All Souls days. As they grow, I hope they continue to see fall as an opportunity for some good clean family fun and memory making, not just a time to dress up and get candy.